Many businesses only measure the results of their online marketing toward one goal. For e-commerce businesses, this is typically measured in completed sales transactions, while service and B2B businesses tend to report on the completion of some sort of lead generation or contact form.
While these macro business goals may be important to your boss, they certainly don't tell the whole story. Imagine for a moment a company with a complete content marketing funnel which includes an email newsletter, whitepapers, customer case studies, webinars, and more. Focusing only on those results immediately leading to a contact form submission or sale would be ignoring all of the other steps the customer had to take along their journey through the sales funnel as they considered and evaluated their options.
Customers now turn to the internet throughout that entire purchasing process, so there's a good chance that many of the visitors to your website have been there before. These micro conversions are important steps in building relationships with your website visitors, ultimately contributing to your primary conversion goals.
By measuring both macro and micro conversion goals, we as marketers will be better able to measure ROI and make more informed decisions, including on how to best use video to help improve results each step of the way.
Here are 5 great ways to use video to improve your micro conversion goals in measurable ways.
1. To Decrease Bounce Rates
When a customer first lands on your homepage, the first goal should be to keep them there by answering whatever that initial question is that they're going to have – probably something like "what exactly does this product or service do and how does it work?". You're then going to probably want them to take some kind of initial action.
Video hosting platform Vidyard.com uses a video on their homepage to explain how their solution can help in a fun and engaging way. The call-to-action at the end of the video simply asks the viewer to Take a tour to learn more. A button to both Take a tour and to Request a demo are prominently featured beside the video for return visitors who are ready to convert to a contact form.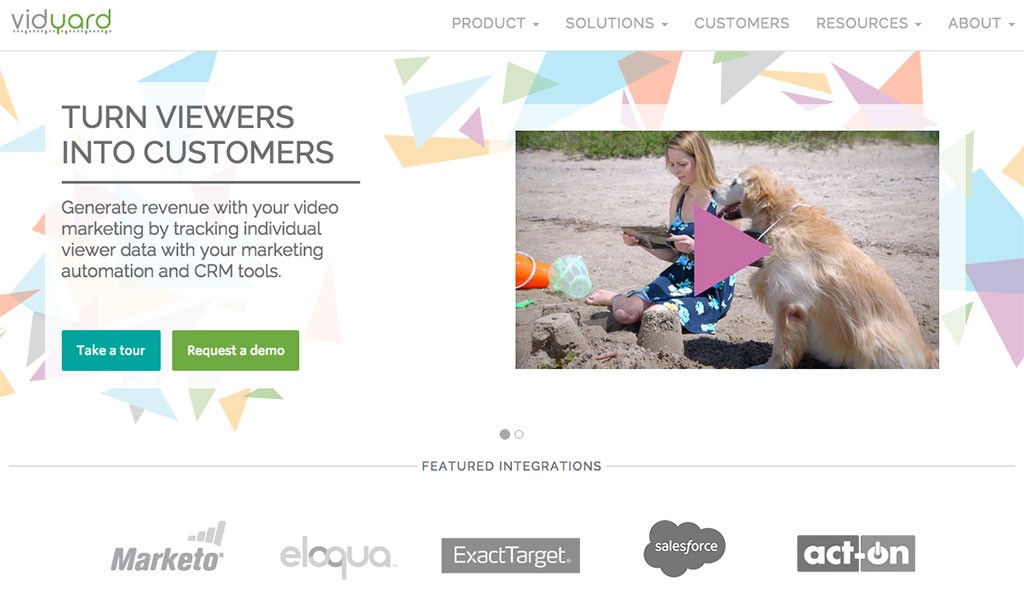 Keep in mind that it's important to properly optimize your landing page videos to maximize views so that the video can do the heavy lifting, including placing the video 'above the fold' and using an enticing thumbnail.
Read more: 3.5 Ways to Increase Views to Your Landing Page Videos
2. To Increase Ebook Downloads
Somewhere on your website is probably a button promoting some kind of ebook or whitepaper which more than likely takes visitors to a webpage with a big form requiring them to fill out all sorts of information in exchange. Chances are that you're experiencing higher abandonment rates of this form than you'd like (you're measuring this, right?), and this is probably because many visitors still weren't quite sold on the cost-benefit ratio in that transaction.
Including a video here to quickly summarize what the visitor can expect might be just enough to motivate them to take the time to give up all that personal information, and could even help get them excited to actually read through the download and retain some of the information. Below is an example of a simple video we made for our own Storytelling Ebook, featuring our writer Andrew.
3. To Increase Email Click-Through Rates
Now that you've managed to capture those email addresses, you need people to actually open your newsletters and to take action. Given the number of work emails, newsletters, and spam that we all tend to get these days, that's easier said than done!
Video can reportedly increase email click-through rates by 200-300%, and simply including the word 'video' in your subject line can help to improve open rates too! Video hosting platform Wistia.com is a great example of a company who uses video really well in their newsletters.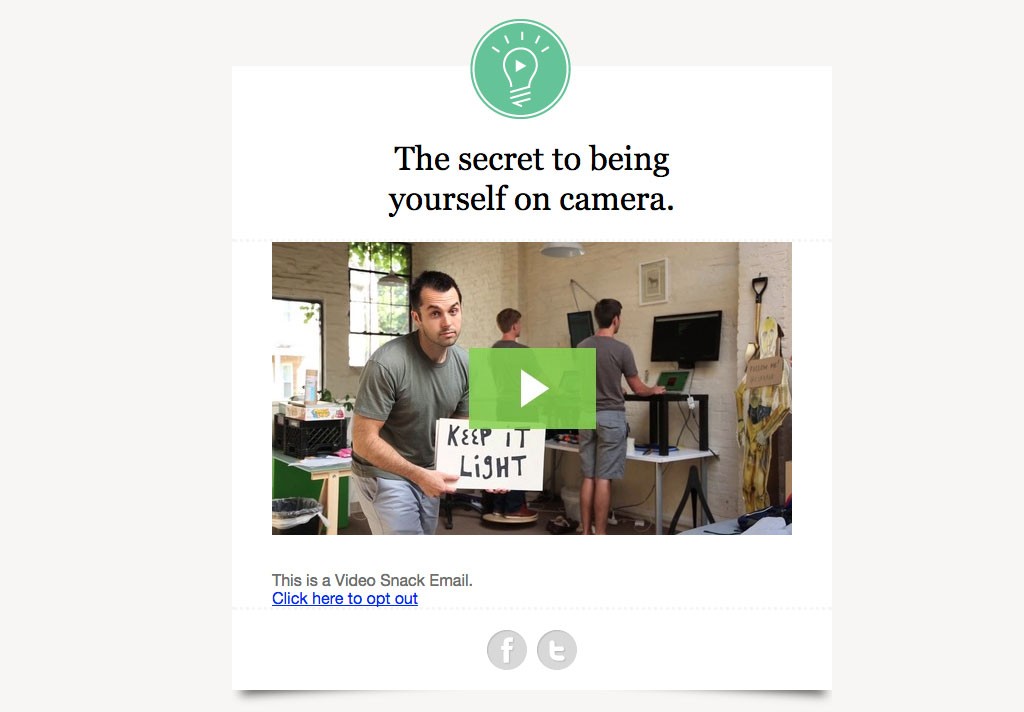 For this strategy to be successful, you'll need to follow some basic best practices which are quite similar to those for improving views to a landing page video. Be sure to put the video front and centre and 'above the fold', with a single clear call-to-action for visitors to click to watch. The thumbnail you choose can make all the difference as well.
If your email newsletter platform allows for A/B testing, try testing this against a version of the newsletter with no video to compare results.
4. To Decrease Email Unsubscribes
By now it should be obvious that a video could help explain to visitors the benefits of signing up for that newsletter of yours in the first place, similar to how you might use video to increase ebook downloads. But inbound marketing platform Hubspot.com gets bonus points for making the best break-up video ever in their attempt to stop readers from unsubscribing.
Remember to A/B Test
The primary benefit in focusing on micro conversion goals is in the ability to measure performance and ROI. By split A/B testing each step of the way, you can not only compare your micro conversion rates both with and without video, but can even test different versions of a video to continually improve results.